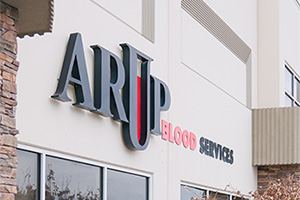 ARUP Blood Services is a non-profit collection center that is proud to be the sole blood provider to:
ARUP Blood Services is a component of ARUP Laboratories, an enterprise of the University of Utah and its Department of Pathology. Children and adults undergoing bone marrow transplants or suffering from cancer, burns, trauma, surgery, or illness count on ARUP to have an ongoing supply of blood for their treatment.
Each unit of blood we collect is separated into different components to help multiple patients in need. ARUP Blood Services needs approximately 100 people to donate whole blood every day to keep up with the needs of the hospitals we serve. Meeting this demand is a challenge during weekends, holidays, and the busy summer months.
Mission Statement
To continually improve patient care by providing a safe and adequate supply of blood and blood products for local patients in need. In partnership with blood donors, physicians, and community organizations, we provide comprehensive transfusion medicine services for patients at University of Utah Hospital and Clinics, Huntsman Cancer Institute.
Values
Our values include dedication to:
Safety and regulatory compliance
Quality and service excellence
Fiscal responsibility
Community education
Employee development