Become an ARUP Blood Services Platelet donor today!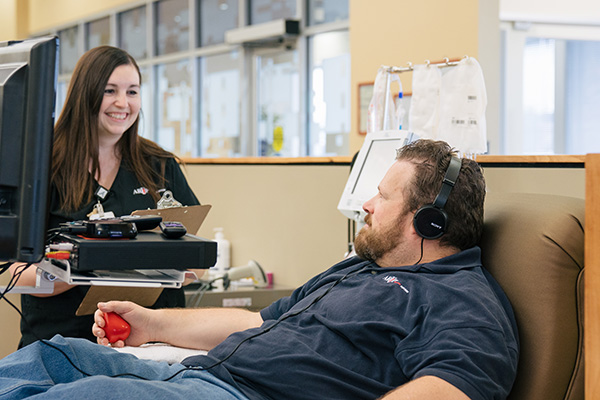 ARUP Blood Services needs about 20 people each day to donate platelets at our Research Park or Sandy donor centers to help the patients at the hospitals we serve. (What are platelets?) The platelet donation takes longer than a regular whole blood donation, usually around 80 minutes, and because of the time it takes to donate, our pool of potential donors is quite small. Platelets are used to help cancer patients, bone marrow transplant patients, organ transplant patients, trauma patients, open-heart patients, and more. These patients need platelets from donors to survive. Unlike whole blood, which lasts 35 days, platelets last only five days, so a lot of donations are needed on a continual basis.
Become a platelet donor today by contacting us at (801) 584-5272, or contact Mike Findlay at michael.d.findlay@aruplab.com to schedule an appointment.
Platelet Donor Stories
Here are some comments from a few of our dedicated platelet donors who have shared their donation experiences and their reasons for donating platelets:
---
I began donating at the suggestion of my dad. He was a regular platelet donor, and I thought that was pretty cool. I had donated whole blood several times in my life, but I had not donated platelets yet. My dad explained a bit about who the platelets go to and that I would get to watch a movie while I did it, so being the movie junkie that I am, I said, "Sign me up!"
I don't remember being too apprehensive during my first platelet donation. I do remember being curious about the whole process, and the technicians were more than willing to let me know how things worked. Now, after having donated for a few years—I think it has been about 4 years—when I walk in the room, I am warmly greeted by the techs (mostly because they love the fact that I don't take very long to donate. It takes just over an hour since I have an extremely high platelet count). The thing that keeps me coming back is knowing that my platelets are going to really sick people who need them. And it also helps that I get treats afterward.
I get so excited knowing that I am helping others who are sick. It breaks my heart when I am not able to donate and help them out, but it gives me more incentive to get better quickly so that I can donate as soon as possible again.
— Catherine N.
---
My family moved here about nine years ago. Shortly after we arrived, our church sponsored a blood drive using your mobile unit. I had been giving whole blood donations for many years—I got started back in college in the '50s—so I was pleased to participate. Your staff suggested that I might want to try a platelet donation sometime. I agreed to do so, and now I have been giving platelets fairly routinely for about nine years (except for an 18-month hiatus because of a work period in Ghana).
I find the donation time to be relaxing rather than stressful, but you have to do it the first time to find out which way it will go. I am presently working on convincing one of my daughters to start the platelet routine. I think she will be pleased to donate platelets when she is eligible. Your staff and processes make it really easy.
Why do I give? Because people have needs, and you never know when it will hit home. I have a granddaughter who experienced some very serious problems as a 19-month-old about two years ago. I believe she was a beneficiary of transfusions if not platelets. At any rate, she was at death's door, but she recovered. If my donations can help anyone in a similar circumstance, then I am blessed.
I guess I am also sensitive to the number of people that would be ineligible to donate based on the very thorough screening process you go through. As I am eligible, I need to step up as often as I can to help cover for those who might want to donate, but, for whatever reason, find themselves not able to.
— John N.
---
I hate blood to the point that I get light-headed when I see it—or more correctly, I used to.
One day, when I was leaving my bank, I saw an elderly lady catch her toe on an uneven piece of sidewalk and topple onto her face. I went over to see if I could help and found that she had been cut and was bleeding. As much as I wanted to reach down and help her to her feet, I was unable to do this simple task. I felt myself getting light-headed and all I could do was say, "Stay here—I will go get help." Fortunately, I found a pair of women leaving a restaurant just around the corner, and they were able to come and take control of the situation, but I was very bothered by my inability to help. I decided that I was going to do something to help me get over this fear, and donating blood seemed to be the perfect solution.
At first, I was a total wreck when I donated—moaning, covering my face, insisting that all the tubes remain hidden, and basically being a big baby about the whole procedure. Despite this, the Blood Services staff members were understanding and cheerful. It turned into a big joke among us. Realizing that they accepted my fear of blood, even though they obviously did not share it, was validating. Those people were my friends, they went out of their way to make me feel as comfortable as possible, and I owe them a debt of gratitude because slowly, my fear of blood has subsided. Today, my fear is more than just manageable, and I feel confident that if I ever find myself in a situation where my help is needed, I will not be incapacitated by fear.
No one can donate for long before becoming convinced of the importance of the action. It did not take many calls from a recruiter who said my blood was needed to support a baby, a father, a mother, or a child to convince me that donating was far more important to these people than my desire to get over a fear of blood. Having the recruiter personalize the need—knowing that my donation was going to make a real difference for a specific individual—converted me from a casual donor to a dedicated one. With the health information protection legislation, the recruiters are limited in the information they can give me about where my donations are tagged for use, but it is enough to know that they are calling to fill a need and not to meet a quota.
After more than 200 donations, I have experienced the whole range of donations—from the easy ones where I hardly notice the procedure at all to the very infrequent times when donating has been slightly uncomfortable. Even during those infrequent donations when it seemed like the procedure could not end fast enough, I could not help but realize that I would much rather be the one donating than the one receiving; the pain or discomfort I have felt on occasion pales in comparison to the states of the individuals who are receiving the platelets from me.
I once heard someone described as being "a waste of fresh air," meaning that they were just consuming oxygen without giving anything back. That statement was made as a joke, and it was obviously an overstatement, but it stuck with me nonetheless. Donating has given me a feeling of peace because I know that I am paying for the resources I consume by offering others a chance at health. If nothing else, I know that my donations pay my way to breathe deeply.
— Eric A.